How to find transportation and get clients?
Start your session
If you are a new user, sign up to be able to bid on Leadmee for free.
Track your shipment
In the search engine, enter the origin and destination of your delivery or transport route, the detour radius and select the filters that correspond to the type of cargo you want to transport.
Bid on ads
Choose the advertised transports and offer your services. The customer values the price but also the quality of the carrier.
Monitor transportation
With the chat you will have direct contact with the client and do not forget to use photographic certificates of receipt and delivery of the shipment.
With Leadmee it is free to locate loads and offer your services to our clients.
We are the only platform in the market that does not charge carriers commission for locating and managing loads.
To get your van or truck completed, you just have to make offers to customers to transport their goods and wait for them to accept your offer.
Find transportation ad for free.
Carriers will give you their best offer to carry your shipment. Your transport is safe with AXA and at a good price because it shares available space on existing routes. Communicate with your clients by chat and monitor the location of your package, your bike, your motorcycle or ask about your pet! Managing your shipments with Leadmee is very simple from our App.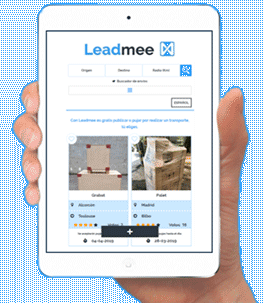 «I often do the same route from Pamplona to Lleida. It allows me to fill my truck on the way back with loads from Leadmee customers. With the App it is easy. 100% recommended for carriers looking for clients. Also the service is free! »
«A great idea to share available truck space. I transported a second-hand industrial machine to Madrid. 100% recommended! »
«Very useful and free! I registered and got a job transporting furniture to Barcelona. You can chat with the customer using the built in App. I use it often to fill the space in my van. »
Are you a carrier?
If you are a carrier with Leadmee, you don't pay commission